Latest Situation Updates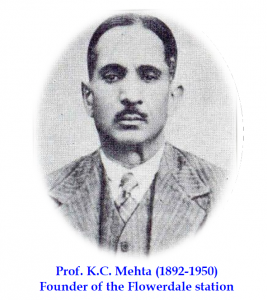 The latest version of the Mehtaensis newsletter (a 6 monthly newsletter named after Prof. K.C. Mehta) has just been published by the IIWBR, Regional Station, Flowerdale, Shimla. Compiled and edited by Dr. S.C. Bhardwaj, O.P. Gangwar, Pramod Prasad and Hanif Khan with technical assistance from S.B. Singh and Subodh Kumar. Mehtaensis contains a detailed summary of all the rust activities and race analysis results from India and neighbouring South Asian countries during the period July – Dec 2015. The executive summary is reproduced here:
"During offseason 135 samples of three rusts of wheat were received from Himachal Pradesh, Punjab, Tamil Nadu and Uttarakhand. 49 samples of all three rusts of wheat were analyzed, some of which were spill over of main season. Ug99 type of virulence was not identified anywhere in India. In brown rust pathotype77-5 (121R63-1) of brown rust, 46S119 and 110S119 of yellow rust and 40A (62G29) of black rust were found most frequently among the analyzed samples. Nucleus inocula of three rusts were also supplied to 38 Scientists/Research centres to facilitate research work elsewhere in India. More than 2850 lines of wheat and barley were evaluated against the pathotypes of different rusts. The tested material included the breeding lines provided by breeders from various parts of India, exotic wheat lines from CIMMYT and ICARDA. In addition 150 lines of AVT I and II are being evaluated against different pathotypes to identify rust resistant wheat lines. For monitoring the occurrence/spread of different diseases of wheat, Wheat Disease Monitoring Nursery (WDMN) and SAARC-WDMN were planted at 50 and 28 locations, respectively. Early occurrence of yellow rust was reported from Ropar, Anandpur Sahib and Hoshiarpur district of Punjab. Three Ug99 resistant genetic stocks namely FLW31, FLW32 and FLW33 have been developed. FLW31 and FLW33 are completely resistant against black and brown rusts while FLW32 has resistance to black rust and adult plant resistance against yellow and brown rusts. Work on standardization of doubled haploid production in wheat using maize pollination induced chromosome elimination was initiated. Offseason nursery was used for selection and generation advancement of 325 wheat lines. Under frontline demonstration of wheat variety, HS542 was planted in five adopted villages (12 farmers) of Tehsil Arki (Solan district of Himachal Pradesh)."
Analysis of dead, single pustule stem rust pathogen samples (D-samples) using molecular diagnostic SNP assay at the USDA-ARS Cereals Disease Lab, Minnesota has detected a race TKTTF ("Digalu" race) genotype in Kenya for the first time. Five samples from 2014 and 7 samples from 2015, all collected by Ruth Wanyera and the pathology team from KALRO, Njoro, tested positive for race TKTTF genotype. These results indicated that a single genotype (clade IV-B) was present in Kenya. Clade IV-B is the predominant genotype in Ethiopia.
The D-sample results indicate that race TKTTF is distributed (probably at low frequency) throughout the major wheat growing regions of Kenya. The 2014 positive samples were collected from North Rift (n=2), Central Rift (n=1) and Mount Kenya (n=2). In 2015, positive samples were collected from South Rift (n=1), Central Rift (n=1) and Mount Kenya (n=5). Most of the TKTTF genotype positive samples were collected from the cultivar 'Robin' (n=9), but 'KS Mwamba' (n=1), 'Kwale' (n=1) and an unknown barley variety (n=1) also produced positive results for TKTTF genotype.
At present no race analysis studies on live samples collected in Kenya have detected the presence of race TKTTF. Testing of the SNP assay against known isolates of TKTTF and negative controls has proven 100% reliable, but until there is confirmation by race analysis the D-sample results are considered indicative.
Race TKTTF now totally dominates the stem rust pathogen population in all the wheat growing regions of neighbouring Ethiopia, so its presence in Kenya is not unexpected.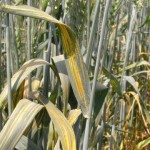 Stripe rust was detected on 18th Dec 2015 in Anandpur Sahib and Ropar districts, Punjab and subsequently in Hoshiarpur district. The variety affected was HD-2967.  Following the first detection, the Indian Institute of Wheat and Barley Research (IIWBR) and other authorities are stepping up their efforts to curb the spread of the disease and urging farmers to be vigilant and take appropriate control measures. These first reports are slightly earlier than in previous years, but the locations are consistently the first places in India where stripe rust is detected. Several Indian media sources are reporting the first appearance of stripe rust in Punjab (see The Tribune, Business Standard, The Hindu, Times of India, The Tribune). As in previous years, Indian authorities are responding to these initial outbreaks in a rapid, effective and well organized way.