Latest Situation Updates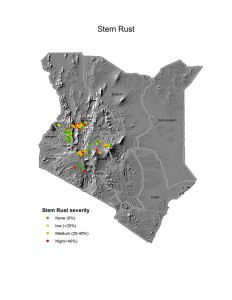 Rust surveys were carried out in all the four key wheat growing regions of Kenya: South Rift, Mount Kenya region, Central Rift and North Rift. The surveys were conducted by experts from the Kenyan Agricultural Research Institution (KARI). A total of 296 farms were sampled. Stem rust was detected in 196(66.2.0%), yellow rust in thirty-one (10.4%) and leaf rust in eight(2.7%) of the farms with disease severity ranging from trace to 80S, 50S and 40S respectively. The rusts were detected in all the wheat growing regions. Stem rust infection ranged from TR to 80S with infection in South Rift (69.6%) North Rift (55.8%), and maximum infection in Central Rift (92.2%) and Mount Kenya region (57.7%). Yellow rust infection ranged TR to 60S with minimum infection in North Rift (7.4%) ,South Rift (8.9%) and maximum infection in Mt. Kenya region (15.5% and Central Rift (11.8%). Leaf rust infection ranged from trace to 50S with minimum infection in Mount Kenya region (1.4%, Central Rift (3.9% and maximum infection in North Rift was (5.3%).
Commonly grown varieties :Robin, NJRBWII, KSMwamba and Kwale . Robin was popular in Central Rift( 47.1%), Mt.Kenya region(43.7%), South Rift (41.8%) and North Rift (12.6%) of the sampled fields.Variety NJRBWII occupied the largest area in North Rift (63.2%).
The area planted with NJRBWII increased in 2014 the North Rift compared to 2013 in the same region and the area under Robin increased in the other three regions. Variety Eagle 10 still occupied a very small area in all the regions except in the South Rift(19.5%) of the sampled fields.
The general observation was that the adoption of Robin was coming up very fast, but unfortunately the variety has broken down to apparently new race of stem rust yet to be defined. Only those farmers who sprayed following the right recommendations harvested/will harvest the crop. Those who did not spray or sprayed without following the proper recommendations lost the crop to the disease.
Secondly, the disease pressure was very high in all the regions but the majority of the farmers sprayed to keep the inoculum load low( South Rift,North Rift,Central and Mt.Kenya region).
The latest version (Vol 34, July 2014, No. 2) of the Mehtaensis newsletter (a 6 monthly newsletter named after Prof. K.C. Mehta) has just been published by the DWR, Regional Station, Flowerdale, Shimla. Compiled by Dr. S.C. Bhardwaj, O.P. Gangwar, P. Prasad and Hanif Khan with technical assistance from: S.B. Singh, Subodh Kumar (Mehtaensis July 2014 Vol.34No.2). Mehtaensis contains a detailed summary of all the rust activities and race analysis results from India and neighbouring South Asian countries during the 2013/14 season. Reported highlights are summarized as follows:
There was no major outbreak of wheat rusts in India during 2013-14. However, sporadic incidence of yellow rust of wheat was observed at some locations in Northern India. Stem (Black) rust of wheat was reported on indigenous experimental wheat material planted in Uttarakhand and barley material in Karnataka. During the year 1625 samples of different rusts of wheat and barley were received/collected for pathotype analyses. Analyses of more than 1209 samples revealed that the wheat rust population analyzed is avirulent to Yr5, Yr10, Yr11, Yr12, Yr13, Yr14, Yr15, Yr24, Yr26, YrSp and YrSk (yellow/stripe rust); to Sr26, Sr27, Sr31, Sr32, Sr35, Sr39, Sr40, Sr43, SrTt3 and SrTmp (black/stem rust); to Lr24, Lr25, Lr29, Lr32, Lr39, Lr42 and Lr45 (brown/leaf rust). Predominant pathotypes were; (i) yellow/stripe rust: 46S119 (74% of samples) and 78S84 (18.5% of samples); (ii) brown/leaf rust: 77-5 (121R63-1=THTTM) predominant, followed by 104-2 (21R55=PHTTL); (iii) black/stem rust: pathotype 11 (79G31=RRTSF) was predominant followed by pathotype 40A (62G29=PTHSC). One new pathotype each of the three wheat rusts were identified, however all were less virulent than those already described. Virulence on Sr31 (Ug99 type of pathotypes) was not identified anywhere in India, Bangladesh, Bhutan and Nepal.
Rust surveys were undertaken in the central Highlands of Yemen during the period 20-25th May 2014. The surveys were undertaken by scientists from the Agricultural Research & Extension Authority (AREA), with the survey team being Musaed Eisa, Rashad Al Basha and Mohmmed Alsaadi. A total of 20 farmer fields were surveyed in Jahran, Qaa Alhagel, Sheraa, Rebat Alqala and Qaa Aldailamy; along with research plots at the AREA Central Highlands Research Station.
In the farmer fields the major varieties cultivated were Shaba ad Bohoth 13. Yellow rust was quite widely distributed, but in general severity was quite low. Only 6 fields recorded severity of 40-50S. Stem rust was only present in 4 fields with low incidence and severity in farmer fields. Leaf rust was absent on the surveys and no rust was observed on Barley.
On station, both yellow and stem rust were recorded at high severity (80-90S) on susceptible lines. It was noted that the stem rust infections observed were slightly unusual, as most infections normally occur in the summer season (October). Samples were collected and will be sent to the Global Rust Reference Center, Denmark for race analysis.