Latest Situation Updates
The following is extracted from the BGRI Newsletter Special Edition, 3rd April 2015:
Kenyan Variety Robin Overcome by Two New Ug99 Variants
A popular wheat cultivar, Robin, sustained severe damage in some farmers' fields by stem rust in the 2014 crop season in Kenya. Robin became popular because of high yield potential and resistance to previously known Ug99 races. The resistance was conferred by stem rust gene SrTmp, which was effective to the previous races of the Ug99 race group. KALRO scientists collected several samples from various field sites, including the stem rust resistance screening nurseries at Njoro, and race analyses conducted by CDL and GRRC identified two new variants in the Ug99 race group, both of which were virulent to SrTmp. One of the two new variants was also detected in the 2014 samples from neighboring countries. The detection of these new races is a result of worldwide efforts in recent years on stem rust surveillance to detect and monitor Ug99 and other significant races that pose a continuous threat to wheat production. During the past years KALRO has released several stem rust resistant wheat varieties and others are at advanced stages of testing in national variety registration trials. Varieties such as 'Kingbird', 'Kenya Tai', 'Eagle 10', 'Kenya Sunbird' and 'Kenya Hawk 10' continue to be resistant to the new SrTmp virulent variants.
Following the confirmed detection of Ug99 (race TTKSK) in Egypt in 2014 (BGRI special newsletter report April 2015) increased vigilance is needed for stem rust in the eastern Mediterranean. Although no confirmed reports of race TTKSK have been obtained from Egypt in 2015, trace amounts of stem rust (race unknown) were detected in the central delta of Egypt in early March 2015. No further reports of stem rust outbreaks have been reported from Egypt in 2015. Crops in Egypt are now approaching maturity, with harvesting occurring between mid April to mid May. However, if any stem rust inoculum were to build up in Egypt then spore deposition models run jointly by the UK Met Office and Cambridge University indicate that there is a risk of onward movement of spores to the eastern Mediterranean basin. Model results show consistent seasonal deposition patterns over the last 12 years, indicating  a higher risk, relative to other areas, of spore deposition for Israel, Lebanon, Jordan, eastern Syria and southern Turkey. During the months April and May typically there is a large spatial variation of deposition patterns, with long-distance dispersal of spores that reach eastern Mediterranean countries (see Fig 1 – Data from March, April, May 2014 used as an illustrative example of typical spore dispersal patterns). The most recent spore deposition forecast maps for the period 8 – 14 April 2015, based on confirmed sites for Ug99 (race TTKSK) in Egypt in 2014 agree well with the long-term dispersal trends. Increased surveillance and monitoring is advised in Israel, Lebanon, Jordan, eastern Syria and southern Turkey. Sampling of any stem rust detected in the eastern Mediterranean and rapid race identity confirmation is recommended (either by race analysis on live samples or through the USDA CDL SNP assay for the Ug99 race group). Please contact Dave Hodson, CIMMYT (d.hodson@cgiar.org) for more details on sampling options.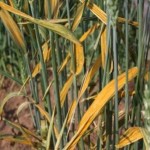 Favourable weather conditions for stripe rust are occurring across North Africa to South Asia. Cool, wet conditions across many parts of the region are producing a conducive environment for disease outbreaks. Aggressive races with virulence to Yr27 are known to be widely distributed in several countries and susceptible Yr27 carrying cultivars are still planted on large areas. In addition, the Warrior race (virulent on: Yr1,2,3,4,-,6,7,-,9,-,-,17,-,25,-,32,Sp,Avs,Amb) has spread into the region from Europe. Many of the resistant cultivars to the Yr27 race are likely to carry some of the genes defeated by the Warrior race, particularly in winter wheat material. After first detection in 2010, the Warrior race has spread rapidly across Europe. Most previously resistant cultivars became susceptible to this new race and widespread damage resulted in major European wheat growing areas. The Warrior race was confirmed in 2013 from Morocco, and subsequently in Algeria in 2014 (GRRC, Denmark) and Turkey in 2014 (Field Crops Research Institute, Ankara and Regional Cereal Rust Research Center, Izmir, Turkey). Under current conditions, this race is likely to spread in North Africa and the Middle East. The combined presence of the Yr27 aggressive race and the Warrior race may result in susceptibility of many existing spring and winter wheat cultivars. Although not recorded at present, acquisition of virulence for Yr27 by the Warrior race is not impossible and needs to be carefully monitored.
Serious stripe rust outbreaks are now being reported from Morocco (March 2015), and outbreaks have occurred in India (Feb 2015 http://www.tribuneindia.com/news/haryana/yellow-rust-hits-wheat-over-2000-acres-in-y-nagar/47843.html). First reports of stripe rust appearance have also been reported from south-west Iran at the end of Feb 2015. Other countries e.g., Yemen currently only have low levels of disease or are currently reported to be disease free.
Given the current and forecasted favourable weather conditions for disease development and the presence of the Yr27 aggressive race and the Warrior race, extreme caution and vigilance is advised with respect to stripe rust. Early detection, sampling, reporting and timely effective control of any outbreaks on susceptible cultivars is recommended.
Reporting of new outbreaks to Borlaug Global Rust Initiative (BGRI) staff, K. Nazari (ICARDA) k.nazari@cgiar.org and D. Hodson (CIMMYT) d.hodson@cgiar.org is encouraged. Pathotype analysis of representative samples of stripe rust would provide additional information about which sources of resistances in wheat may be at particular risk. The Global Rust Reference Centre in Denmark may undertake such analysis, but only on a limited number of samples. Please contact K Nazari or D. Hodson for essential sampling and dispatching procedures.