Latest Situation Updates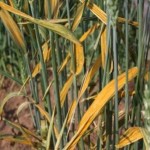 Favourable weather conditions for stripe rust are occurring across North Africa to South Asia. Cool, wet conditions across many parts of the region are producing a conducive environment for disease outbreaks. Aggressive races with virulence to Yr27 are known to be widely distributed in several countries and susceptible Yr27 carrying cultivars are still planted on large areas. In addition, the Warrior race (virulent on: Yr1,2,3,4,-,6,7,-,9,-,-,17,-,25,-,32,Sp,Avs,Amb) has spread into the region from Europe. Many of the resistant cultivars to the Yr27 race are likely to carry some of the genes defeated by the Warrior race, particularly in winter wheat material. After first detection in 2010, the Warrior race has spread rapidly across Europe. Most previously resistant cultivars became susceptible to this new race and widespread damage resulted in major European wheat growing areas. The Warrior race was confirmed in 2013 from Morocco, and subsequently in Algeria in 2014 (GRRC, Denmark) and Turkey in 2014 (Field Crops Research Institute, Ankara and Regional Cereal Rust Research Center, Izmir, Turkey). Under current conditions, this race is likely to spread in North Africa and the Middle East. The combined presence of the Yr27 aggressive race and the Warrior race may result in susceptibility of many existing spring and winter wheat cultivars. Although not recorded at present, acquisition of virulence for Yr27 by the Warrior race is not impossible and needs to be carefully monitored.
Serious stripe rust outbreaks are now being reported from Morocco (March 2015), and outbreaks have occurred in India (Feb 2015 http://www.tribuneindia.com/news/haryana/yellow-rust-hits-wheat-over-2000-acres-in-y-nagar/47843.html). First reports of stripe rust appearance have also been reported from south-west Iran at the end of Feb 2015. Other countries e.g., Yemen currently only have low levels of disease or are currently reported to be disease free.
Given the current and forecasted favourable weather conditions for disease development and the presence of the Yr27 aggressive race and the Warrior race, extreme caution and vigilance is advised with respect to stripe rust. Early detection, sampling, reporting and timely effective control of any outbreaks on susceptible cultivars is recommended.
Reporting of new outbreaks to Borlaug Global Rust Initiative (BGRI) staff, K. Nazari (ICARDA) k.nazari@cgiar.org and D. Hodson (CIMMYT) d.hodson@cgiar.org is encouraged. Pathotype analysis of representative samples of stripe rust would provide additional information about which sources of resistances in wheat may be at particular risk. The Global Rust Reference Centre in Denmark may undertake such analysis, but only on a limited number of samples. Please contact K Nazari or D. Hodson for essential sampling and dispatching procedures.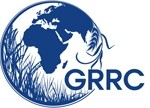 Following the recent release of the 2013 stripe rust report, the Global Rust Reference Center in Denmark has now just published the latest report detailing the results of race analysis for  Puccinia striifromis samples submitted during the period January – December 2014. A total of 250 yellow rust infected leaf samples from 12 countries entered the recovery process using susceptible seedlings of Cartago and Morocco. A total of 83 isolates were recovered and multiplied whereas 5 isolates from Pakistan were avirulent on both Cartago and Morocco. A subset of 52 isolates from 2014 and 10 additional isolates collected in 2013 were pathotyped using an extended set of wheat differential lines carrying resistance genes to P. striiformis.
Key highlights from the report are:
Races of the aggressive strain (likely PstS2) were common across many sampling areas in East Africa and Asia
Aggressive strain PstS2 was detected frequently in Ethiopia, Kenya, Tanzania and Rwanda, often with additional virulence to Yr1 or Yr10
Another group of Yr27-virulent races were observed in East Africa, e.g., Rwanda and Ethiopia
The races in Central Asia often combined multiple virulences and many isolates produced huge amounts of telia, which may suggest a recent evolutionary origin from a sexual population
'Warrior' race was detected in Morocco and Algeria (exhibits same characteristics as above)
Very similar races to 'Warrior' have been observed in Bhutan (2012) and in 2014 also in Nepal. However, these Warrior-like races from South Asia differed from the Warrior race in Europe by DNA markers and in response to additional, non-standard differentials.
A copy of the report – Hovmøller & Rodriguez-Algaba 2015: Global Rust Reference Center: Research funded by: Aarhus University,Denmark; CIMMYT; ICARDA – can be found on Wheatrust.org
Indian media sources are reporting the first appearance of stripe rust in Punjab. According to a report in the Hindustan Times (read report here), stripe rust was detected on Jan 9th in Kharod village, Nawanshahr district.  Stripe rust is also reported to be present in Ropar district. These reports are in-line with reports from previous years, both in terms of location and timing of the first reports of stripe rust in India. As in previous years, Indian authorities are responding to these initial outbreaks in a rapid, effective and well organized way.