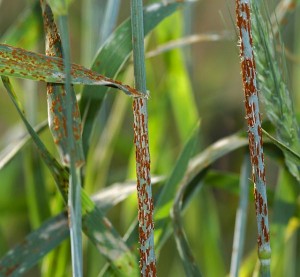 Wheat stem rust (Puccinia graminis f. sp. tritici) is historically the most damaging disease of wheat. Under suitable conditions, yield losses of 70% or more are possible. In 1999, a new virulent race of stem rust was identified from wheat fields in Uganda – popularly known as Ug99 after the year and country of discovery. The unique virulence associated with Ug99, or variants, has rendered a large proportion of global wheat cultivars susceptible.
Regularly updated situation reports on cereal rusts are given based on information provided by a global network of rust workers. It is important to note that not all reports of stem rust relate to Ug99 or variants – other local races are also included.
Results of extensive lab tests of samples of stem rust have shown that the 2016 stem rust epidemics in Sicily were caused by a new, highly virulent variant of race TTTTF. The samples were collected during serious and unusual outbreaks of wheat stem rust on both durum wheat and bread wheat in Sicily during April – June 2016.
The epidemics were estimated to cover several thousands of hectares resulting in high inoculum load that could pose a threat to surrounding wheat areas in the forthcoming 2017 crop season, if environmental conditions prove suitable. Growers in at risk areas should be aware of the possible risk (on both durum and bread wheat), monitor crops for the early appearance of stem rust and undertake timely control if necessary.
Sicily 2016 Outbreak
Unusual, early stem rust infections (at heading stage) were first detected by Dr Biagio Randazzo on April 19th 2016 in experimental plots at Ciminna, Palermo province. High and unusual levels of yellow rust were observed as well. It is unknown if rust was extensively present in surrounding areas prior to this first detection. Low levels of stem rust were observed at Ciminna at the end of the previous season (June 2015) and a mild winter may have contributed to the early infections in 2016. The majority of wheat breeding lines being tested at Ciminna showed high susceptibility to both rust diseases.
Samples of rust infected leaves and stems were sent to the Global Rust Reference Centre (GRRC), Aarhus University, Denmark for race analysis. In the GRRC report: Samples of stem rust infected wheat from Italy, a single race of stem rust was reported among the 16 samples investigated – race TTTTF using the North American nomenclature – but additional virulence on resistance gene Sr13 and others were also identified. This is one of the few races known to be virulent to the combination of resistance genes Sr9e and Sr13, both being common sources of resistance in many durum wheat varieties. Although it should be noted that Sr13 virulence has been previously reported from Turkey. Race TTTTF has complex virulence, but is not related to the Ug99 race group and it is avirulent on genes Sr31, Sr24 and Sr25. Similar races have been detected in nearby regions and appear to be spreading rapidly, isolates from these regions are currently being investigated and compared with isolates from the Sicily epidemic. Yellow rust samples from Sicily revealed three races including a new one with a wide virulence spectrum (see – New races caused epidemics of yellow rust in Europe, East Africa and Central Asia in 2016). Rust samples were also sent to the John Innes Centre, UK for genotyping, and analysis is still on-going. Results on maps and charts are available from the GRRC, Aarhus University and RustTracker, CIMMYT. Continue reading →