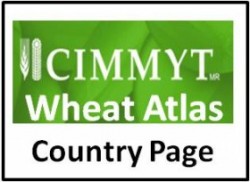 Rust Issues: Stem rust is a serious constraint to wheat production, requiring chemical control in many areas.
Ug99 Status: Ug99 was first identified in in Kenya in 2001, although it may have been present for a longer period of time. Currently, 8 variants of Ug99 have been detected in Kenya (Races: TTKST, TTKST, TTTSK, PTKSK, PTKST, TTKTT, TTKTK, TTHSK) with Sr24 variants (Races: TTKST, PTKST) being the predominant pathotypes.
Rust Screening: The main BGRI bread wheat stem rust screening nursery is located at KALRO, Njoro in the Rift Valley.
Situation Updates:
In 2016  surveys were carried out in all the four key wheat growing regions: South Rift (June, July), Mount Kenya region (July), and North Rift (September) and Central Rift (part of August and September). A total of 304 farms were sampled. Stem rust was detected in 235(78.3%), yellow rust in twenty-eight (9.3%) and leaf rust in fourteen (4.7%) of the farms. The disease severity was ranging from trace to 90S; trace to 60S and trace to 50S for stem rust, yellow rust and leaf rust respectively. Stem and yellow rusts were detected in all the wheat growing regions while leaf was detected in South, North and Central Rift. Stem rust infection ranged from TR to 90S with maximum infection in Central Rift( 88.3%), Mt. Kenya region (80.3%); South Rift(76.5%) and North Rift (72.4%). Yellow rust infection ranged TR to 60S with maximum infection in Central Rift (16.7%); North Rift(13.3 %) and minimum infection in South Rift( 4.9%),) and Mt. Kenya region ( 1.7%). Leaf rust infection ranged from trace to 50S with maximum infection in North Rift (10.2%) minimum infection in Central Rift (3.3 %) and South Rift (1.2%). Continue reading →