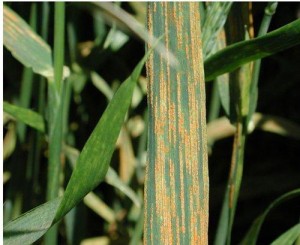 Wheat rust surveys were undertaken by staff from the Iranian Seed and Plant Improvement Institute (SPII) during May 2011. Coverage of most of the major wheat growing areas in Iran was achieved, with a total of 36 sites surveyed using standard BGRI survey methodology. Yellow rust predominated, being recorded at 29 of the sites visited. The disease was widely distributed, being recorded in most of the survey areas. However severity levels were generally low, only 2 sites recorded high severity (>40%) of disease.
Leaf rust was recorded at 10 of the site visited, the distribution covered most of the areas but the severity was low (<20%) at all sites.
Stem rust was only recorded at 4 sites and all had low severity (<20%) of disease. The distribution matched that of the previous year, with reports coming from the Caspian Sea area and the west.