Http iframes are not shown in https pages in many major browsers. Please read
this post
for details.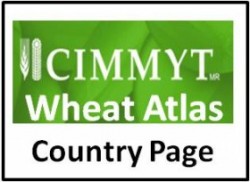 Rust Issues: Yellow rust is the main constraint to wheat production. Leaf rust has reached epidemic levels in the past. Stem rust is recorded annually in Sindh province.
Ug99 Status: No Ug99 lineage races have been detected in Pakistan
Situation Updates:

Very extensive rust surveys were undertaken throughout the main wheat growing regions of Pakistan during February-April 2013. The survey were coordinated by Dr. Atiq ur Rehman Rattu, NARC, Islamabad but were undertaken by a wide range of different institutes within Pakistan. Surveys in 2013 covered 232 locations throughout Pakistan, an increase of nearly 50% on the previous year. All three rusts were encountered on the surveys, but stripe (yellow) rust predominated being recorded at 53% (n=124) of the locations. Leaf rust was the second most widely observed rust in 2013, recorded at 33% (n=77) of the locations. Stem rust was observed at 15% (n=34) of the survey locations in 2013.
Conducive climatic conditions for rusts, especially stripe (yellow) rust, occurred in Pakistan in 2013 and these conditions were mirrored in many other countries in the CWANA region. These favourable conditions were reflected in an increased frequency (compared to 2012) of high (>40%) or moderate (>20%) severity ratings for  all three rusts in Pakistan in 2013. This increasing trend of higher severity was particularly pronounced for stripe (yellow) rust. Distinct spatial distribution patterns were observed for each of the three rusts in 2013, highlighting the distinct environmental niches present in the Pakistan wheat growing areas. Stripe (yellow) rust predominated in the cooler northern-central wheat areas of Punjab, North-west Frontier, and Azad Jammu and Kashmir. Leaf rust was the most cosmopolitan rust distributed from north to south, but with higher occurrence in the central to southern areas. Stem rust was concentrated in the warmer southern regions of Sindh, with only isolated observations in the southern Punjab and one report of stem rust from a trial at Chakwal in the north. Extensive sampling of all three rusts was undertaken in Pakistan in 2013, with over 170 samples collected, and race analysis is on-going.
Based on initial reports from the field, a preliminary summary of the current rust situation in Pakistan is presented. More detailed reports will follow once survey data is compiled and analysis has been undertaken.
Like other countries in the region, Pakistan experienced conducive climatic conditions for rust development in the 2012/13 season. These conditions favored yellow (stripe) rust which was widespread. Localized, severe outbreaks were observed on older susceptible cultivars e.g., Sehar-06, but other major cultivars remained resistant. Surveillance teams covered all the major wheat growing areas and at least 100 samples of yellow rust are currently under-going race analysis. As in India (see March 20th report), no major epidemics of yellow rust were observed and all indications are that Pakistan will harvest a bumper wheat crop this season.
Both stem and leaf rust were also relatively widespread. Stem rust was reported from late planted commercial fields in the southern Punjab. Over 40 stem rust samples and 30 leaf rust samples are currently under-going race analysis. However, with the Pakistan wheat crop now at maturity there is little chance of damage due to stem rust.
Extensive wheat rust surveys were undertaken by several research institutes in Pakistan during March to May 2011. The surveys covered all the major wheat growing areas from Sindh province in the south to the northern plains. A total of 56 unique sites were surveyed using standard BGRI methodology. Multiple records were obtained from several sites, resulting in a total of 101 rust observations. All three rusts were observed on the survey, but the spatial distribution was characteristically different for each species.
Stem rust was observed at 8 of the individual sites visited. All these sites were clustered in the south of Sindh province. Samples were collected and subsequent race analysis should determine which races are present. All previous samples collected from these areas have been typed as race RRTTF.
Yellow rust was recorded at 22 individual sites. The majority of these were clustered in the Northern plain areas. High or moderate severity (>20%) of diseases was recorded at 8 of the sites surveyed. All bar one of these sites were located in the northern areas between Lahore and Islamabad.
Leaf rust was recorded at 26 individual sites. Records were distributed throughout the areas surveyed. The majority of records related to low severity (1-20%) of disease. Only 5 sites recorded high severity (>40%) of disease.
Confirmed results from race analysis completed in the 2009/10 season are now available. The confirmed spread of Ug99 variants carrying combined Sr31 + Sr24 virulence in Africa continues, along with the continued predominance of these variants in Kenya. The absence of Ug99 from samples collected in Pakistan in 2009 was also confirmed.
In Ethiopia, two isolates collected near Meraro in the Rift Valley during October 2007 were confirmed to have combined virulence to both Sr31 and Sr24. Samples were collected by EIAR scientists and analysis undertaken by the Cereal Research Centre, Winnipeg, AAFC, Canada. The race was postulated to be PTKST. This represents the first confirmed occurrence of a Ug99 variant with virulence to Sr24 in Ethiopia.
In Kenya, a total of 55 samples were collected in 2009 by KARI scientists but race analysis was only possible on 12 viable samples. Race analysis was undertaken by the Cereal Research Centre, Winnipeg, AAFC, Canada. Races identified were; TTKST (Ug99+Sr24) (50%), PTKST (34%), and PTKSK (16%). Despite the low sample size, the results did indicate the continued predominance of Ug99 variants with combined Sr31 + Sr24 virulence in Kenya (Wanyera et al 2010).
In Pakistan, samples were collected during the 2009 season from Sindh and lower Punjab. Isolates were analysed at Murree in Pakistan and at the Cereal Research Centre, Winnipeg, AAFC, Canada. All isolates tested were identified as race RRTTF. This race has also been previously identified in Ethiopia (2007) and in Yemen (2007, 2008). RRTTF has reported virulence on Sr13, Sr36 and SrTmp. It is avirulent on Sr8a, 9e, 22, 24, 25, 26, 27, 31, 32, 39, 40. Preserved urediniospores were also sent to PBI, Uni Sydney, Australia for DNA fingerprinting for Ug99 and negative results were obtained. Combined analyses indicate the absence of Ug99 in the 2009 Pakistan stem rust samples (Mirza et al 2010).