Http iframes are not shown in https pages in many major browsers. Please read
this post
for details.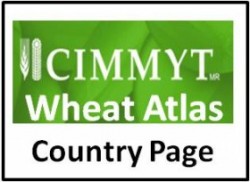 Rust Issues: Yellow rust is the most serious constraint to wheat production.
Ug99 Status: No Ug99 lineage races have been detected in Azerbaijan.
Situation Updates:
Rust surveys undertaken in Azerbaijan by Konul Aslanova and colleagues from the Azerbaijan Agricultural Research Institute of Crop Husbandry in May/June 2015. Of the 11 widely dispersed sites surveyed, stem rust was observed at 6 sites (55%). High or moderate severity of stem rust was observed at all these sites, with both bread and durum wheat infected. Stem rust incidence and severity was highest in the Jalilabad area in the south-east Caspian Sea region of Azerbaijan, close to the Iranian border. Samples are currently undergoing race analysis and the current race(s) are unknown. In previous years the Digalu race (TKTTF) has been reported from Azerbaijan.
Rust surveys undertaken by Dr Emad Al-Maaroof and colleagues from Suleimaniyah University, Iraq in April/May 2016 covered 89 fields in Central and North-east Iraq. In the North-East – the Suleimanyah, Kirkuk, Erbil region – stem rust was detected in 40 fields, with high or moderate severity at most sites. The durum variety Adana-99 was most severely affected. Samples are currently undergoing race analysis and the current race(s) are unknown. In previous years the Digalu race (TKTTF) has been reported from Iraq.
These surveys combined indicate the potential increasing presence of stem rust in the region.
Wheat rust surveys were undertaken by staff from the Azerbaijan Institute of Crop Husbandry throughout most of the wheat growing regions of Azerbaijan during early June 2012. A total of 8 sites were surveyed using standard BGRI survey methodology, the sites were representative of  the wheat growing areas of the country. Conditions in 2012 did not appear favourable for rust development and the only record was yellow rust at low incidence and severity on the Gobustan Research Station. The survey did however record very high incidence and severity of Tan Spot at virtually all the survey locations. The cultivar Bezostaya was severely affected by Tan Spot.
Additional survey data were received from Azerbaijan and Tajikistan. In Azerbaijan, stem rust was absent from 24 fields surveyed in April 2010. In Tajikistan, 39 fields were surveyed using standard methodology in May 2010. Stem rust at high severity was recorded at 2 sites close to the border with Uzbekistan. Stem rust pathotypes present in Tajikistan are currently unknown.
Surveys were undertaken in Azerbaijan (May/June 2010 – 38 fields), Lebanon (May 2010 – 16 fields) and Uzbekistan (May 2010 – 56 fields). In each country, isolated occurrences of stem rust were detected in farmer's fields. In Lebanon, occurrence of stem rust at 11 of the 16 survey sites was considered slightly unusual. In Azerbaijan, stem rust at two on-farm sites (score 20SMS, 40SMS) on the Caspian Sea was noteworthy. In Uzbekistan, stem rust (score 40MS) was recorded at a single site in the Fergana Valley. In all cases races involved are currently unknown. Increased surveillance effort may be one factor leading to increased detection, but regular future monitoring and confirmation of races involved is considered important.