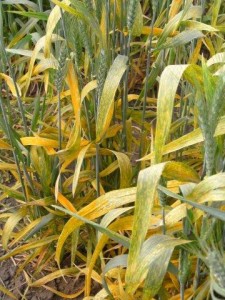 Widely grown cultivars in Ethiopia – Galema and Kubsa  – suffered a serious yellow rust epidemic in the 2010 main season. Official estimates indicated that over 500,000 ha of wheat were affected. Conducive environmental conditions which permitted early infection, coupled to high susceptibility of these major cultivars were the major drivers. Both cultivars are known to carry the Yr27 gene.
Extensive wheat rust surveys were undertaken by staff  from 12 different institutes throughout Ethiopia. These surveys were coordinated by Dr Getaneh Woldeab of the EIAR Ambo Research Station. A total of 1084 sites were surveyed, with all the major wheat growing areas covered by the surveys. Conditions were extremely favourable for rust development in general, but yellow rust completely dominated. Yellow rust was recorded at 590 sites and more than 50% of these had either moderate or high severity (>20%) of disease. High incidence and severity of disease (>40%) was recorded at approximately 200 of the sites surveyed. Yellow rust was extremely widespread, covering all the major wheat growing areas except the northern areas of Tigray.
Stem rust and leaf rust were recorded in approximately equal proportions on the survey. Stem rust was recorded at 298 sites and leaf rust at 278 sites. For both diseases the majority of records were of low disease severity (1-20%). Stem rust was concentrated in the southern areas, south of Addis Ababa. Leaf rust was much more widely distributed occurring throughout the wheat growing areas of Ethiopia. It was the most common rust recorded in the northern areas of Tigray.