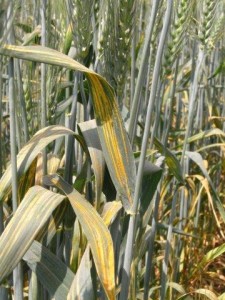 Following the widespread yellow rust epidemics observed in the 2010 main season, extensive wheat rust surveys were undertaken by staff  from 13 different institutes throughout Ethiopia. These surveys were once again coordinated by Dr Getaneh Woldeab of the EIAR Ambo Research Station. A total of 719 sites were surveyed, with all the major wheat growing areas covered by the surveys. Whilst not at the same level of disease pressure as 2010, yellow incidence and severity remained very high in certain areas. Continued widespread cultivation of susceptible cultivars like Galema and Kubsa was almost certainly a factor.
Yellow rust once again predominated, being recorded at 414 of the sites surveyed. A larger proportion of sites were recorded with only low disease severity (1-20%) compared to 2010, but even so approximately 40% of the sites with yellow rust reported moderate or high disease severity (>20%). High (>40%) disease severity was reported  from 81 sites (cf 200 sites in 2010). Yellow rust was still widely distributed, but more concentrated in the western highlands – Oromyia and Amhara regions – rather than in the eastern highlands of Arsi and Bale. As in 2010, the northern areas of Tigray were relatively free of yellow rust.
As in 2010, stem rust and leaf rust were recorded in approximately equal proportions on the survey. Stem rust was recorded at 158 sites and leaf rust at 144 sites. Moderate or high (>20%) stem rust severity was recorded at 29 locations. For both diseases the majority of records were of low disease severity (1-20%). Stem rust was again concentrated in the southern areas, south of Addis Ababa.  Leaf rust was more widely distributed occurring throughout the wheat growing areas of Ethiopia, apart from the northern areas of Tigray.