Http iframes are not shown in https pages in many major browsers. Please read
this post
for details.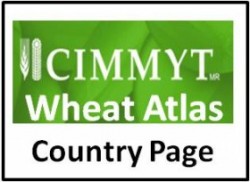 Rust Issues: Yellow rust is the primary constraint. Epidemics occured in 2009 and 2010, with the major variety Cham 7 severly affected. Aggressive races with Yr27+ virulence were implicated in the epidemics.
Ug99 Status: No Ug99 lineage races have been detected in Syria.
Situation Updates:
Following the confirmed detection of Ug99 (race TTKSK) in Egypt in 2014 (BGRI special newsletter report April 2015) increased vigilance is needed for stem rust in the eastern Mediterranean. Although no confirmed reports of race TTKSK have been obtained from Egypt in 2015, trace amounts of stem rust (race unknown) were detected in the central delta of Egypt in early March 2015. No further reports of stem rust outbreaks have been reported from Egypt in 2015. Crops in Egypt are now approaching maturity, with harvesting occurring between mid April to mid May. However, if any stem rust inoculum were to build up in Egypt then spore deposition models run jointly by the UK Met Office and Cambridge University indicate that there is a risk of onward movement of spores to the eastern Mediterranean basin. Model results show consistent seasonal deposition patterns over the last 12 years, indicating  a higher risk, relative to other areas, of spore deposition for Israel, Lebanon, Jordan, eastern Syria and southern Turkey. During the months April and May typically there is a large spatial variation of deposition patterns, with long-distance dispersal of spores that reach eastern Mediterranean countries (see Fig 1 – Data from March, April, May 2014 used as an illustrative example of typical spore dispersal patterns). The most recent spore deposition forecast maps for the period 8 – 14 April 2015, based on confirmed sites for Ug99 (race TTKSK) in Egypt in 2014 agree well with the long-term dispersal trends. Increased surveillance and monitoring is advised in Israel, Lebanon, Jordan, eastern Syria and southern Turkey. Sampling of any stem rust detected in the eastern Mediterranean and rapid race identity confirmation is recommended (either by race analysis on live samples or through the USDA CDL SNP assay for the Ug99 race group). Please contact Dave Hodson, CIMMYT (d.hodson@cgiar.org) for more details on sampling options.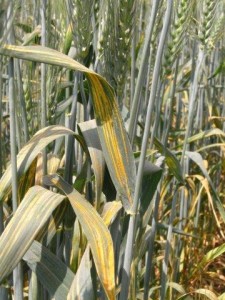 Wheat rust surveys were undertaken throughout the wheat growing regions of Syria during May 2011. A total of 66 sites were surveyed using standard BGRI survey methodology. These surveys coordinated by ICARDA followed the major yellow rust epidemics observed in 2010. Disease pressure was not as high as the previous year, but yellow rust totally dominated the surveys, being the only rust recorded.  Yellow rust was found on 46 of the fields surveyed. The disease was widely distributed, but highest levels of incidence and severity were recorded in the Northern areas adjacent to the Turkish border.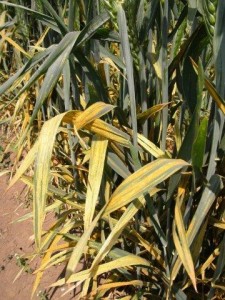 Following early indications of a major yellow rust outbreak and high susceptibility of meg-cultivar Cham-8, the Syrian Agricultural Research Programme in collaboration with ICARDA undertook a massive rust survey effort in 2010. A total of 546 fields were surveyed, covering all the major wheat growing areas in the country. Yellow rust was recorded on 235 of the fields surveyed, with moderate or high severity (>20%) reported on more than 50% of these fields. The disease was widespread, but high incidence and severity was apparent in the North-east adjacent to the Turkish and Iraqi borders and also in the areas around Aleppo.
Conditions in 2010 were favourable for rusts in general, with leaf rust also widespread. Leaf rust was recorded on 245 fields. Highest incidence and severity was observed in the western areas.
Stem rust was recorded on only 11 fields, predominantly in western coastal areas, west of Hamah and Homs.